by
Matthieu Couet

on

In this interview, we talk with Laurene Lecomte. She is in charge of Risk, Payments and Fraud management at Back Market. We, at ProcessOut, have been working with Laurene and her team for more than a year now. Their payment expertise and what they have achieved to scale Back Market payment infrastructure is impressive. Today we're super proud to have Laurene sharing some insights and feedback.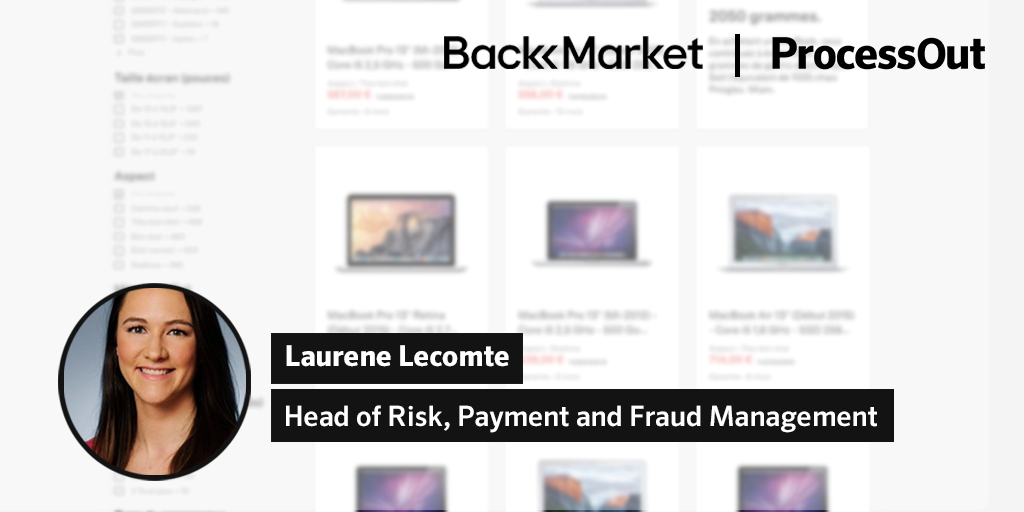 Back Market is a French marketplace, tying together refurbishing factories and customers.
The mission of the company is simple: establish a sustainable alternative to the consumption of electronic goods by creating a circular economy inside the tech industry. It has raised 50 M$ and is available in Europe (France, Belgium, Spain, Germany, Austria, Italy, UK) and in the US.
Hi Laurene! Thank you for taking the time. Could you introduce yourself and tell us a bit about your background?
I graduated from Audencia, a business school based in Nantes. After my studies, I went to San Francisco where I worked for BNP Paribas on innovative payment uses, then to China where I did a Master in New Technologies Economics and Management. After this short expatriation, I came back to France and worked for 2+ years as a Consultant at Edgar, Dunn & Company, a consulting firm focused on Payments strategy.
I joined Back Market as a Payments and Fraud manager, for many reasons: a super exciting and fun adventure that was still relatively in its infancy (< 3 years existence), a positive impact for the planet, challenging payment topics specific to marketplaces, great people … It has been more than two years now; I was promoted Head of Risk, Payments and Fraud recently, and recruited talented experts for each topic. Our team is part of the Finance & Legal department, and goes hand in hand with a tech team of 8+ people (PO, devs, EM, QA).
When you started at Back Market in January 2018, what was your scope in the first months?
The hardest thing when you start as Payment Manager is to understand the current financial flows very much in detail and map them precisely with every use case, technical limitations, API calls, delays, status, stakeholders.
At the same time, you also have to manage day-to-day operations meaning support related to ongoing projects. We launched the US less than 2 months after my arrival, and faced serious fraud trends I addressed ASAP.
Could you tell us about your challenges in the mid-term/long-term?
My subjects are divided into 4 main concerns:
1. Give more efficiency and agility to our Product on Risk, Payment and Fraud matters
At customer checkout, we want to improve significantly our Product regarding new payment uses (for example: installments in all countries), risk/fraud screening, currency change facilities… to increase our conversion rate.
Today we are integrated with Adyen's and Paypal's marketplace solutions. There is a large room for optimization to make our marketplace more scalable and harmonized despite having 2 marketplace payment solutions in parallel: topics such as merchant invoicing and payouts, reconciliation with better granularity, merchant KYB onboarding, promo code management, increased conversion rate, etc…
2. Internationalization
We must offer our customers all the payment methods they want/need in each of our markets to create as little friction as possible during his payment experience on our website. For instance, PayPal is mainstream in Germany and Italy, Installment payments are gaining momentum in France… We must adapt our offer at the local scale.
But the hardest part in the internationalization process was creating multi-currency logics, for merchants operating in different regions/countries; not only for the payouts but also for invoicing our merchant services, or handling multi-items baskets.
3. Regulation
Regulation is always a challenge since it is ever-evolving. The complexity is to anticipate the next regulations and their impacts. For example, we had a stressful experience with US sales tax, since the regulation evolved throughout 2019, much faster than expected. Then you must prioritize your projects differently.
In 2020, one of our main focuses on Regulation will be, of course, the PSD2/ 3DS2 regulations in Europe.
4. Support function for all the company
A huge part of the payment team's time is dedicated to providing insights to the operational teams: how to launch a new service on BackMarket, how to answer merchants on finance topics, how to optimize tools and processes, how to anticipate customer questions…
How is your team composed today?
The financial ops team I directly manage is constituted of:
- a Payment Manager: Baptiste Guegan (former: Dalenys)
- a Fraud Manager: Olivier Erol (former: Paypal, Etsy, Deezer) and a fraud analyst
- a Risk & Compliance Manager: Charles Henrard (former: Dalenys) and a risk analyst
- a Payment Conversion Analyst: Audric Grognet (former: Rakuten)
We work together with a tech team, that is constituted of:
- a Product Owner
- an Engineering Manager
- 4 Back End Developers
- 2 Front End Developer
- and a QA Engineer
You have created your team from 0. Would you have some lessons or tips to share about the creation of a payment team?
What stands out for me is that you have to anticipate a lot when it comes to recruitment.
It's important to learn to foresee the workload and to recruit at the right time. I'm currently recruiting someone while knowing this person will need time to understand the marketplace complexity and be fully operational in a couple of months. But at the same time, I know this new employee might get drowned in less than 6 months!
Then, you save a lot of time when recruiting experienced people but those are hard to find. At Back Market, we are looking for people who have done complex project management using agile methods, with of course good payment knowledge and experiences and a good understanding of marketplace challenges, and last but not least, in phase with our values and project.
Would you have a major challenge that you faced to share with us?
Major challenges come from country launches.
I could tell you about our launch in the US, which was pretty epic regarding fraud! It was before the summer of 2018. We had very poor knowledge of our future clients in the US market and we, therefore, underestimated fraud by far. But we reacted fast, launching an RFP to get a Chargeback guarantee, and implemented the tool in a fortnight.
Finally, what tips or pieces of advice would you give to someone who is building a payment team, or a payment culture in its company?
- Get your hands dirty, review yourself your transaction flows and sit next to your tech teammates
- Document as much as possible - it's important to understand exactly what is the process of a refund, an API call… It needs to be super clear and well documented.
- Clearly define what are your KPIs regarding payment.
- Anticipate future hires well.
Thanks a lot, Laurene!